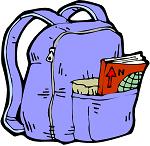 What is a BoB?
BoB is shorthand for a Bug Out Bag – a portable kit which includes everything you would need to survive for 72 hours. It often goes by other names such as 72-Hour Kit, a Go Bag, or GOOD (Get Out Of Dodge) Bag. FEMA, the Federal Emergency Management Agency, recommends that every member of the household have one, pets included.
The goal of the Bug Out Bag is to be easy to grab and take along if evacuation from your home is necessary. It should be stocked with supplies needed for survival until help can be found, until you're able to settle in elsewhere, or until you're able to return home.
Tips for Using a Bug Out Bag
In our home, our pet's BoB stays with their travel kennel. Since the two would be used together in the event of an emergency it makes sense to locate both together.
The recommendation by FEMA is to locate the bag near an exit to your home in a convenient, easy-to-access place. It's good advice which we choose not to follow. Instead, our pet's kennels and bags are kept in the closet which we designate as our tornado shelter. We locate our own bags in the same place. They're still easy to access, but living as we do in "tornado alley" this arrangement made the most sense to us.
The beginning of tornado season in the spring of each year is also a convenient reminder to check supplies in our Bug Out Bags for anything which has expired and needs replaced as well as to check the condition of batteries in the radio and flashlights. I mark my calendar and remind myself to do this again a second time each year in the Fall.
What to Keep in a Bug Out Bag
The content of bags will vary depending on individual situations. If you live in an area of the country more prone to severe winter storms and power outages than tornados and wild fires you're going to have a somewhat different set of needs. Make adjustments to your bag as needed.
Below is a list of what we keep in our pet's BoB.
This checklist with a reminder to check back frequently to rotate stocked items and replace anything which has been used.
A travel kennel large enough to hang a hammock up high and a litter box below. Label the kennel with name, address, and phone number.
A three day supply of water per animal. For ferrets plan to take extra water which can be used for cooling if necessary.
A three day supply of food per animal. We include dry ferret food plus jars of baby food. Remember to rotate out the food every few months to keep it fresh.
Food and water bowls in the crate.
A spray bottle. Useful for misting ferrets to keep them cool.
Newspaper for lining the kennel and the litter box.
Old blankets or rags to use as bedding.
Leashes and collars.
Extra ID tags. Tags should include owner's name, address, phone number and other emergency contact information. Pet tattoo or microchip information.
Current photo of pet along with age, breed, sex and other identifying information.
Copies of medical records, especially vaccination records which would be required should you need to evacuate to public housing or need to board your pet.
Extra medication along with instructions for administering.
Your Ferret First Aid Kit.
Toys and treats to distract and comfort your pet during a stressful period.
Not in the bag but in the freezer with easy access to grab and go are several frozen reusable ice pack to keep ferrets from overheating.
That's it for our Bug Out Bag. What about you? Do you have one? What do you keep in yours? Let me know if I've missed anything?