There's no doubt about it, ferrets can be stubborn and persistent little creatures. You tell them 'No' and they keep right on doing what they shouldn't be doing – as if they didn't hear you.
Well . . . maybe he really didn't hear you?
Deafness is just one characteristic of Waardenburg Syndrome.
Waardenburg Syndrome
Waardenburg syndrome is a genetic disorder. It was first identified in humans, but it is also found in ferrets as well as many other animals.
One of the most common characteristics of Waardenburg syndrome is deafness.
Ferrets of a certain color or whose fur is a particular pattern — dark-eyed whites, badgers and pandas — are more likely to carry this genetic defect. It's estimated that 75% of ferrets with these special markings are deaf.
If you notice any of the following in your ferret, he may be deaf:
Some ferrets may be almost mute, making no noises at all. Others are extremely loud because they don't know they're being loud.
He or she may play extra rough with other ferrets. Because they don't hear the other ferret's screams they don't get the signal that they've had enough.
For unknown reasons, craning head backwards when being held is common among deaf ferrets and has even been given the name 'PEZ Head'.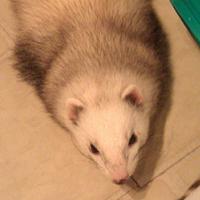 Burnard, the ferret whose photo you see at the top of this page, is showing 'neck craning'. Burnard is a DEW (dark-eyed white) and is likely deaf, although he has never been tested.
Cheree, pictured to the right, is a sable panda ferret. She is not deaf.
Hearing Test
The easiest way to determine if your ferret is deaf is through observation. Watch for signs that he doesn't hear or doesn't hear well. Some ferrets with Waardenburg syndrome have reduced hearing, but are not totally deaf.
Make a loud noise. Does your ferret run, hide, or show any reaction?
Many deaf ferrets are more easily startled if you sneak up on them because they don't hear you coming. Try it and see.
If you have several ferrets pay attention to how the other ferrets react to loud, sudden noise compared to the ferret suspected of deafness.
More scientific methods of testing are available, however, for most ferret owners it's an unnecessary expense. No matter what the outcome there is no cure, and no real benefit to knowing for certain one way or the other. On the other hand, if you're interested in breeding ferrets you may want to know so that you can avoid breeding ferrets who are known to carry this trait.
Dealing With Deafness
Deafness in ferrets is not a huge problem. Being domesticated, it's not a matter of survival as it would be if they lived in the wild.
You will want to adjust the way you train and discipline when dealing with a deaf ferret. Since they can't hear you, you'll need to remember to use some of their other senses instead. For example:
Nip training, instead of saying no, making an angry face can be equally effective.
When training ferrets to come when called or when a squeaky toy is squeaked, instead tap your foot on the floor where they can feel the vibration.
Deaf ferrets often startle easy and bite when scared. Be sure they see you coming before you grab them. Either walk from the front or wave your hand in front of their face before moving to pick them up.
For more information about Waardenburg syndrome: